Ghost Squad
Gas mask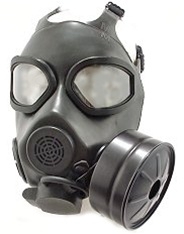 The M40A1 Field Protective Mask is one of various gas masks used by the military of the United States and its allies to protect from field concentrations of chemical and biological agents, along with radiological fallout particles. It is not effective in an oxygen deficient environment or against ammonia.
The gas mask is a mask used to protect the user from inhaling airborne pollutants and toxic gases. The mask forms a sealed cover over the nose and mouth, but may also cover the eyes and other vulnerable soft tissues of the face. Some gas masks are also respirators, though the word gas mask is often used to refer to military equipment (e.g. Field Protective Mask). The user of the gas mask is not protected from gas that the skin can absorb. Most gas mask filters will last around 24 hours in an NBC (nuclear biological chemical) situation.
A gas mask negates airborne toxins and gases. The bulky mask, hood, and limited vision reduces Notice rolls by –1, however.
Back to: Supply Depot